I am incredibly honored to announce:
MOLLY MITCHELL - INTERLACED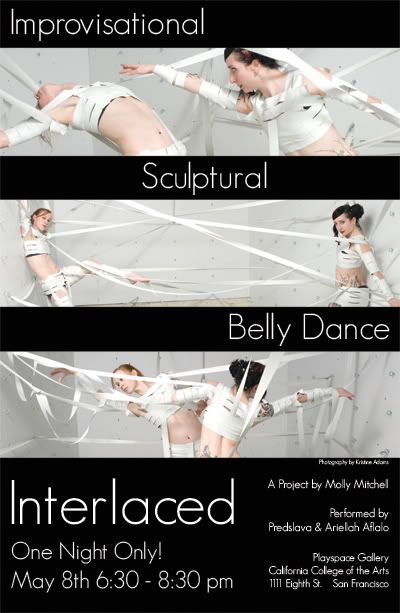 Molly says:
"...To think beyond the formal overlap between the disciplines to how they impact the body, a dress and a building are both constructed to facilitate certain forms of movement while restricting others – they shape how we think and move. Our sense of ourselves as bodies in space is mediated by fashion and architecture throughout the course of our lives – and the way we interface with the world and with each other directly reflects the advances in both disciplines.

The invisible, felt relationships between bodies and the culturally constructed environment that sometimes restrains them, sometimes frees them and sometimes does both at once is my area of interest in this work. ...Interlaced will involve two dancers who are linked to each other through the architecture of the Nave by white rubber strapping that runs through their costumes. The simultaneously stretchy and resistant nature of the rubber restricts certain avenues of movement while enabling others; the piece is about reciprocal movement, a striving to connect over distance and direct vs. indirect contact."
I couldn't have put it better myself. This is my best gal's MFA show for California College of the Arts in San Francisco. I will be in attendance, and if you're in the area, please come too. I'm very proud of her and all that she dreams up.